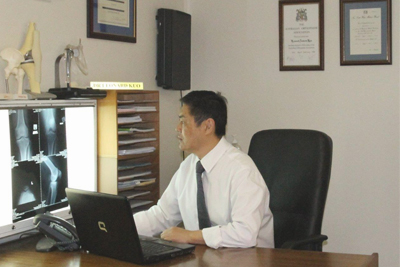 Dr Kuo has been in private Orthopaedic practice since 1995 and subspecialises in surgery of the hip, knee and shoulder. His particular interests are joint replacement, arthroscopic treatment of rotator cuff tears, shoulder instability and sports knee injuries. He provides a general paediatric orthopaedic service.
Dr Kuo has deliberately avoided the increasing corporatisation of medicine and prides himself on upholding the traditional values of medical practice. In every circumstance, he ensures that he provides care in the best interests of the patient in a respectful, ethical and honest manner. By remaining independent, he is able to offer a quality orthopaedic service with a personal touch. Dr Kuo holds specialist appointments at both private and public hospitals allowing him to provide treatment to all in the community.



Dr Kuo abides by the codes of conduct of the Medical Board of Australia and Australian Orthopaedic Association.
 
 

Dr Leonard Kuo Consults at
1 Duke St Campsie 2194 
Tel:(02) 97895414
Tel:(02) 97895700
Fax:(02) 97071555
All Correspondence: PO Box 165 Campsie NSW 2194 
 
 
 
 
 
 

Dr Kuo Consults and operates at
Hurstville Private Hospital

37 Gloucester Rd Hurstville 2220 
Tel:(02) 97895414
Tel:(02) 97895700
Fax:(02) 97071555

 
 
 
 
 
 

Dr Leonard Kuo Operates at
The Strathfield Private Hospital
3 Everton Rd, Strathfield
NSW 2135 Australia
Phone: (612) 9745 7444
 

Dr Leonard Kuo Operates at
The Sydney Private Hospital
63 Victoria Street, Ashfield
NSW 2131 Australia
Phone: (612) 9797 0555

 

 
 
 
 
Dr Leonard Kuo Operates at
Canterbury Hospital Canterbury Road
Campsie NSW 2194
Phone: 9787 0000

 
 
 
 
 

Dr Leonard Kuo Operates at
Sydney Childrens Hospital Randwick
High St, Randwick NSW 2031
Phone:(02) 9382 1111